esInsights helps in maintaining a lasting relationship with your customers by getting important information towards improving your services and products. With esInsights you no longer have to suspect what your customers want and what are their interests as you can create perfectly targeted campaigns knowing their interests, desires or complaints through access to their feedbacks.
Create & Send Professional Surveys
Quick and easy process of creating complex although fully customizable surveys that can be sent to specific client segments. Selecting and inviting contacts to participate in the survey is done easily by using a personalized email invitation.
Get Feedback & Segment Customers
Notice the feedback potential through multiple viewing options: visual charts, tables, pivot tables etc. Configure charts and graphs to create relevant informative reports that aid in shaping opinions and creating action plans through clear customer segmentation.
Analyze responses & take action
Check campaign feedback in real-time, observe response patterns and transform feedback into improved campaigns, products and services. Fast and complete analysis of free-text responses allows you to act quickly when there are dissatisfied customers and improve the relationship between them and your company.
BENEFITS
Improve company's products and services by evaluating customers feedback in real-time
Increase sales through existing customers loyalty
Improve company image in the market through the interest in obtaining customers feedback
Reducing losses by quickly identifying problems encountered in company products or services
Improving marketing and sales campaigns by focusing resources on the most productive communication channels based on customer feedback
Reducing time on collection and analysis of results of evaluation campaigns customer satisfaction by automating related activities
Improving decision and reaction speed to market fluctuations based on real-time customers feedback
ADVANTAGES
Complete flexibility in configuring and customizing the invitation emails and questionnaires
Complete flexibility in configuring reports and data analysis
Ergonomic interfaces, high speed data operating, reporting and analysis system optimized for large data operation
Management of large amounts of information - the system can send up to 150,000 email invitation per day
Built-in security according to financial institutions security standards
Flexible architecture with possibility of implementing with servers located in one or two locations
Integration with other existing software systems at the company
Option to customize the solution according to specific business needs
Rental option of software licenses and equipment specialized Data Center (SaaS).
State of the art technology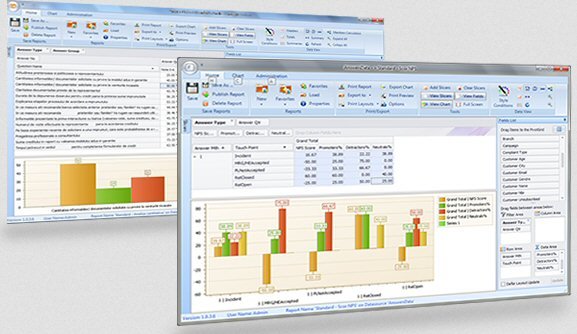 FEATURES
Interface for configuring customized questionnaires - HTML editor for customizing each questionnaire, add / select questions, add / select responses for questions with answers of "Select an answer from the list" or "Select one or more answers from the list" type
Interface for configuring emails and reminders of customized invitations - HTML editor for customizing emails and reminder alerts
Interface for configurating campaigns invitations transmission: validity, participants select categories of clients, questionnaire, and reminder email invitation, transmission rules invitations
Interface for unsubscribe / resubscribe customers to eliminate / reinclusion in customer satisfaction campaigns
Interface for analysis and classification of "Free Text" responses
Configurable reports for analyzing clients responses and for monitoring the operational evolution of customer satisfaction evaluation campaigns
Export data and reports in Excel, PDF and HTML
Secure Communication Protocol (HTTPS)
Transmission of emails and invitation reminders with electronic signature
Transparent integration with Active Directory
Both servers, Reporting and Campaigns Configuration server and Responses Collection and Email server, can be hosted in-house within client premises for maximum control or, alternatively, Email and Responses Collection server can be distributed in a secure external location to ensure segregation of data within your organization in the unlikely event of an informational attack targeting the external server
Fully automated data transfer between servers via Secure FTP if they are in different locations
Security standards on par with common security regulations within the financial sector